Customer Reviews
Write a Review
Ask a Question
04/28/2021
Tim T.

United States
Great Product through trial
Heard about these guys from Drinkin Bros. My sample packs showed up quicker than expected, and the taste is great. Just mix with 20oz. of water and go.
03/19/2021
Vanessa D.

United States
Immune Booster
The watermelon taste great, not too sweet. The Orange is sweeter, but still good. Love that it's a simple liquid; not a powder or tablet!
02/23/2021
James R.

United States
Flavor is a bit two strong
I mixed the orange with orange juice maybe I needed more orange juice but it did have a pretty strong taste.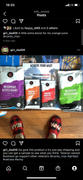 James, I wouldn't recommend that. Try the orange with just plain water next time. Sean